Family Travel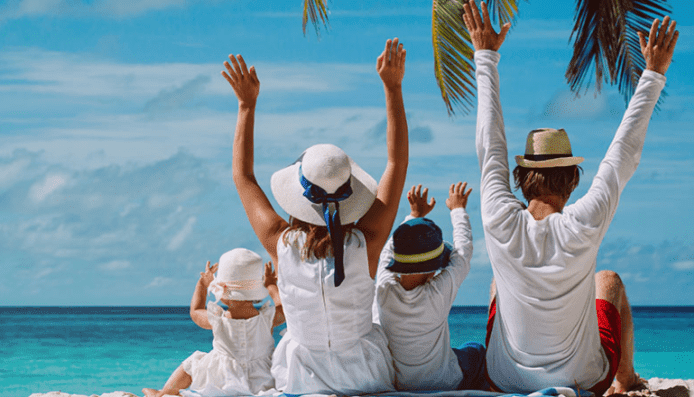 If you're passionate about traveling with your kids, we're just as passionate about delivering great vacation value at an affordable price. Your family deserves the most convenience, the best service and amenities. Exceeding your expectations is what makes us happy. You worked hard for your vacation – we appreciate that. No matter if you're looking for an exclusive luxury escape or a budget holidays, we'll help you spend your money wisely.
Looking to vacation as a group…several families together, a multigenerational vacation with kids, parents and grandparents, even a full out family reunion, destination wedding or milestone celebration…we've got you covered.
Unlike the average travel booking website or automated phone system, we will take the time to get to know you and your family, making sure your vacation is perfectly tailored to your needs. Contact King of Glory Travel today to help plan your next family vacation
Wedding Planning
Whatever your dreams are for your Destination Wedding or Honeymoon, you can trust the Certified Honeymoon & Destination Wedding Specialists at King of Glory Travel to customize your once-in-a-lifetime trip to your desires.
Destination Weddings are increasing in popularity because they are easier to plan, they're more memorable than traditional weddings, and couples are able to enjoy more time with their guests. Did you know that on average, destination weddings can be $15,000 to $20,000 less expensive than traditional weddings? Most destination resorts also provide additional services, sometimes at no cost, for the event planning and coordination.
If you are planning a destination wedding, using a travel professional experienced in destination weddings is a stress-free way to make sure you have the whole package for you and your guests. Not only will you be saving time by leaving all of the travel plans in the hands of your experienced travel professional, but you and your guests will save money by booking as a group. You'll also enjoy the peace of mind that comes with having your own travel professional to call if any issues arise before or during your trip, such as last minute cancellations, weather delays, or emergencies during travel.
Not sure where to start? Tell us about the type of wedding you have in mind and we'll give you our unbiased recommendations based on what you are looking for and what's right for you.
A Destination Wedding can be a great option for you. Don't trust the most important trip of your life to an online do-it-yourself travel site. Contact us today for a personalized approach to planning your Destination Wedding.
Honeymoons
Chances are, you've spent as much time dreaming of your wedding day as you've spent dreaming about your honeymoon.
Your honeymoon is a time to celebrate a new phase of life together. It should reflect the special interests you share as a couple. Make it perfect with the help of the honeymoon travel advisor at King of Glory Travel. Planning your honeymoon should start months before the wedding. Popular destinations and the best honeymoon resorts tend to sell out quickly, so the earlier you plan, the more options you'll find. There are many details and choices to be made, so let the experts in Honeymoon travel guide you through the big decisions, like where to stay and what activities to plan.
Are you going back and forth between the best honeymoon destination for you? It can be fun to explore the many top honeymoon destinations, but there are many factors to consider before making a final decision. What type of location would you prefer? Tropical, mountains, city? When will you be traveling? Is money a factor? How do you want to spend your time? Lounging, skiing, snorkeling, eating fine cuisine?
By answering all of these questions with a Honeymoon Specialist, I can help pinpoint destinations that are most appealing based on experience and expertise.
The most popular honeymoon hot spots include:
Hawaii
Mexico
Caribbean Islands
Tahiti
Dubai
Cruising
Maldives
We blend our knowledge and your vision to create a honeymoon that satisfies both of you. You'll be confident you are getting the honeymoon of your dreams with King of Glory Travel.